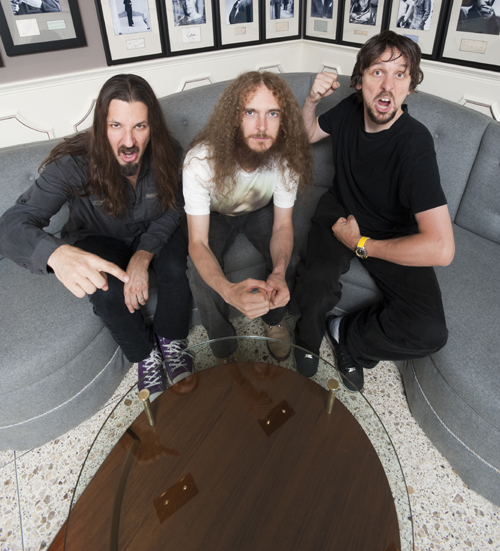 NAMM Weekend Special Performance...Guthrie, Marco and Bryan will be debuting a considerable amount of new material for the first time in public anywhere.
The word "supergroup" is tossed around a lot in instrumental music circles, the result of a seemingly endless supply of efforts to package together individual virtuoso players and make a band out of them. But every once in a while, the group part of that shopworn term becomes authentic and real. Such is the case with The Aristocrats – guitarist Guthrie Govan, bassist Bryan Beller, and drummer Marco Minnemann – who defiantly and joyously blow the supergroup stereotype to bits, thrilling audiences and fans around the world in the process. Let's get the requisite individual credentials out of the way:
-Guthrie Govan is arguably the hottest guitarist on the international music scene today, and his 2006 solo album Erotic Cakes was widely recognized as an instant classic. His top-level touring experience (Asia/GPS, U.K. rap superstar Dizzee Rascal) complements his busy schedule as one the most in-demand guitar clinician/educators in the world, and he was featured on the cover of Guitar Player Magazine in July of 2011;
-Bryan Beller's numerous credits include guitarists Steve Vai (Beller's featured on Vai's 2009 live DVD Where The Wild Things Are), Mike Keneally (Frank Zappa), and the hugely popular metal "band" Dethklok, borne of the Adult Swim (U.S.) animated TV show Metalocalypse. His solo artist catalog includes three CD's, two DVD's, and an instructional DVD for Alfred Publishing;
-Marco Minnemann has played with everyone from Steven Wilson (Porcupine Tree) and Adrian Belew (Zappa, King Crimson) to technical death metal specialists Necrophagist, and is looked upon by fans and peers as one of the most gifted, innovative, cutting-edge drummers in the world. Perhaps less known: He's a multi-instrumentalist and compulsively productive composer with nearly twenty CD & DVD solo releases to date.
WEBSITE
Reservations are recommended:
Please call: 1-800-403-3447 for reservation and more information.
Complimentary coffee, tea and "Alvas" bottled water are